Shifter Installation
1. Unscrew the shifter knob.
2. Pry the plastic surround up until the clips in all 4 corners come loose. It will feel like it's going to break but it wont. The clips are pretty strong.
3. Remove surround, boot, and sound deadening material. Then unbolt the rubber boot that covers the shifter mechanism.
4. Unbolt the shifter handle.
5. Spray penatrating oil (PB Blaster, etc.) on the 4 bolts that hold the shifter in the trans. Let it sit for 15 minutes or so and then strike each bolt head with a hammer and punch to help break the bolts loose. Remove the bolts.
6. Remove shifter. Make sure the plastic bushing stays in the tranny. If not, check the ball on the end of the old shifter, it will be stuck on there. Put the bushing back in the tranny or on the new shifter ball
7. Put a thin bead of RTV sealant on the mounting surface. Drop the new shifter into place and bolt it down tightly.
8. Install the rubber boot, shifter handle, and sound deadening.
9. Adjust shift stops so there is about 1/32" clearance when the trans is in gear. It is best that you start the car to do this. It is the only way to ensure that it is in gear all the way. Tighten the but so the stop can't move. Go for a drive and make sure it works properly.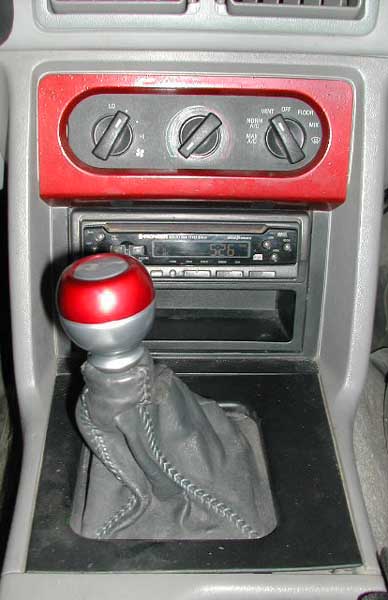 If you have any questions about any of these procedures feel free to contact us HERE
© Stinger Performance Engineering 2016