Tubular Upper & Lower Control Arm Install
1. Raise the vehicle and support it with jack stands. Don't put the stands under the rear axles as you will be jacking it up and down at those points. Remove the wheels.
2. Remove the bolts from the upper control arms (see pic), doing one side at a time. Remove the factory stamped arm and install the tubular upper arm. Be sure to grease the bushing before forcing it into place. This will prevent squeaking and premature wear.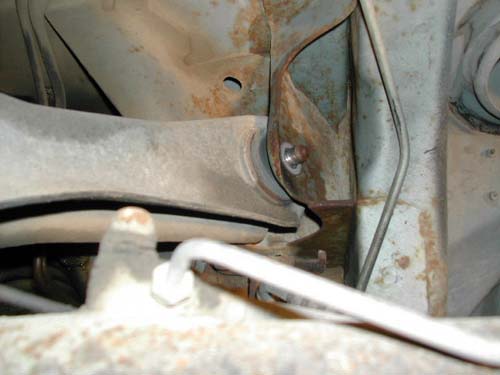 3. Remove the rear sway bar.
4. Doing one side at a time, put a floor jack under each control arm and remove the rear bolt. Slowly release the jack to allow the control arm to come down. This will release the spring as well. You may have to jack up the other side to get the spring to come out. Remove the rubber spring isolators from the stock control arms, these will be reused.
5. Remove the front bolt and remove the control arm.
6. Install the tubular control arm after greasing the bushings. You may need to stretch the mounting brackets back out to factory spec before installing. These will be a very tight fit. Use a rubber mallet to beat on the arms to coerce them to slide into place. Once they are aligned with the bolt hole, install the bolts (front and rear).
7. Re-install the sway bar. Grease the bushings every 10-15k miles to prevent squeaking and premature wear.

***If your car came with quad shocks it is recommended that they are removed. This product performs optimally without the quad shocks in place.

If you have any questions about any of these procedures feel free to contact us HERE
© Stinger Performance Engineering 2016