Project4Gazm 85 SVO
This car was the first Mustang SVO I'd ever seen in person and later the first SVO I ever rode in and drove. I first saw it in the Spring of 2002. I rode in it a few weeks later and then I didn't see it for some time. I kept track of the car though. About 6 months later I saw it parked at the previous owners parents house. I asked them what was up and they said it wasn't running right and I offered to check it out for them. I figured out it had low compression in two cylinders and oil on the plugs. I started searching for a reason and discovered a lack of ANY coolant in the radiator. Apparently he had driven it about 30 miles with no coolant. I offered to buy it at that time but he didn't want to sell it. I kept in touch with his family to make sure if it ever came up for sale that I got first dibs on it. On November 3rd, 2003 I got a call and he said he was in serious need of some cash and needed to sell it. We settled on a price and I drug it home and Project4Gazm was born...


Stats Stock /Modified
Engine: 2.3 Liter Turbocharged & Intercooled
Induction: Garrett/AiResearch T3 Turbo @ 14psi / 60mm Compressor/Stage V .63 A/R Exhaust @ 20psi
Power: 175hp, 210 lb-ft Torque / 415hp, 400 lb-ft
Exhaust: 2.5" Crush Bent Pipe, Cat-Converter, Lo-Flow Muffler / Stinger Header/Full 3" From Turbo To Magnaflow Muffler

Transmission: Hurst Modified Borg-Warner T5 5-Speed / UPR Shifted 5.0L T5 5-Speed (2.95 First Gear)
Rear End: 7.5" w/3.73:1 gears / 8.8" w/4.10 gears and 31 Spline Moser Axles
Brakes f/r: 11" Rotors with 73mm Calipers/11.25" Disc

Suspension: Macpherson Strut, Coil Springs, Anti-Sway Bar/Solid, Coil Springs, Anti-Sway Bar

Struts/Shocks f/r: Adjustable Koni Reds/Adjustable Koni Reds

Curb Weight: 2992 lbs

Weight Distribution f/r %: 55/45
Paint: Medium Canyon Red Paint Code 2A
Performance New /Modified
0-60: 7.7 seconds / 3.5 seconds

0-100: 21.0 seconds / 8.0 seconds

Quarter Mile: 15.2 at 90.0 mph / 11.80 @ 119 mph @ 20psi
Top Speed: 128 mph / 170 mph (theoretical)

Lateral G's: 0.85

Drag Coefficient: 0.39
Kill List
1967 Camaro SS 327 w/Cam, Headers, Slicks
1970 Chevelle SS 454 w/Stall Converter, Cam, Headers, Slicks
1969 Chevelle SS 396 w/Cam, Stall Converter, Headers, Slicks, Alum Intake, etc.
1972 Mustang 351C w/Cam, Stall Converter, Headers, Slicks, Alum Intake.
1999 Ford Lightning
1995 Camaro SS
1985 Buick Grand National Turbo
1991 Camaro Iroc-Z


Modifications
Engine--Stinger Performance Center Mount Header, T4E 60mm Compressor/Stage V .63 A/R Turbo, Stinger Performance 3" Header Downpipe, Mitsubishi FK Intercooler, Magnaflow Muffler, Megasquirt 2 ECU, 85 lb/hr Injectors, Ported Esslinger Aluminum Head, Bo-Port Stage 3 Roller Cam, Adjustable Cam Gear, 65mm Throttle Body, Ported Upper & Lower Intake, K&N Cone Filter, Turbo XS RFL Blow Off Valve, Adjustable Boost Valve, Kirban Adjustable Fuel Pressure Regulator.
Drivetrain--Clutchnet Red 3 Puk Clutch Kit, UPR Blu-Thunder Shifter, FMS Aluminum Driveshaft, Tubular Upper/Lower Control Arms.
Suspension/Tires--17x8" 01 Mustang GT Wheels w/245/45/17 Tires, 15x4" & 15x8" Weld Wheels with 28x10.50 Mickey Thompson ET Street Tires.

Waiting For Installation--Driveshaft Safety Loop, 2004 Mustang GT Brakes, Steering Rack, Spindles, & A Arms.
Here is a few pics of the new engine setup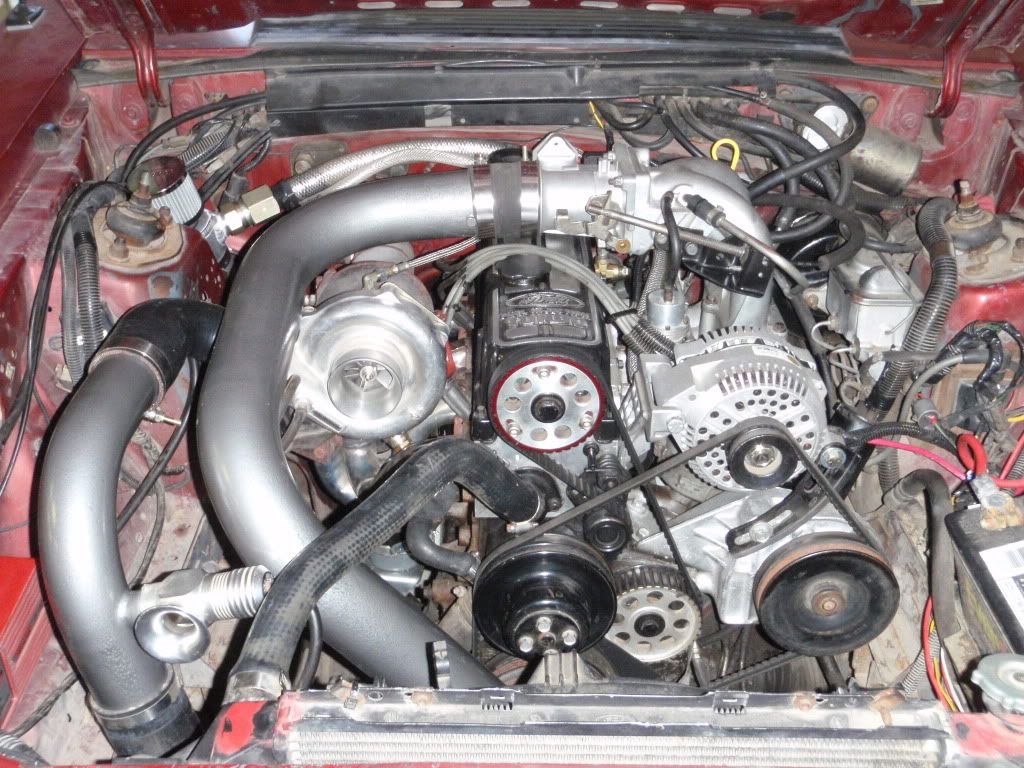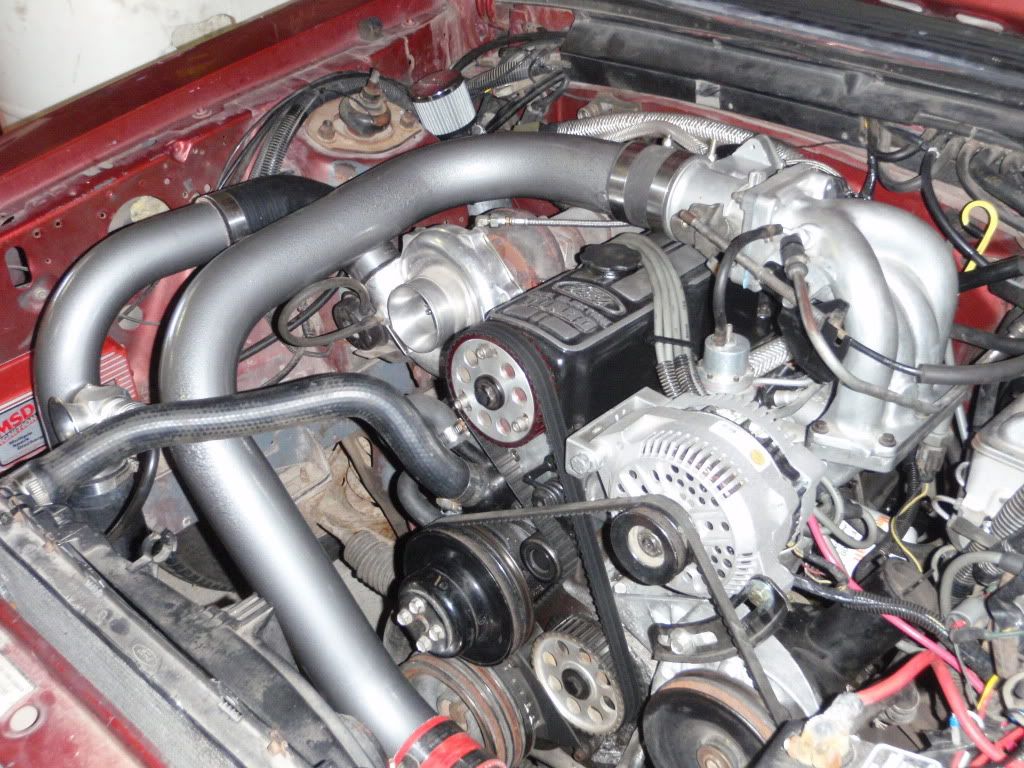 Here are some pictures taken right after I brought it home showing the exact condition it was in when I bought it.
Not in too bad of shape from this angle...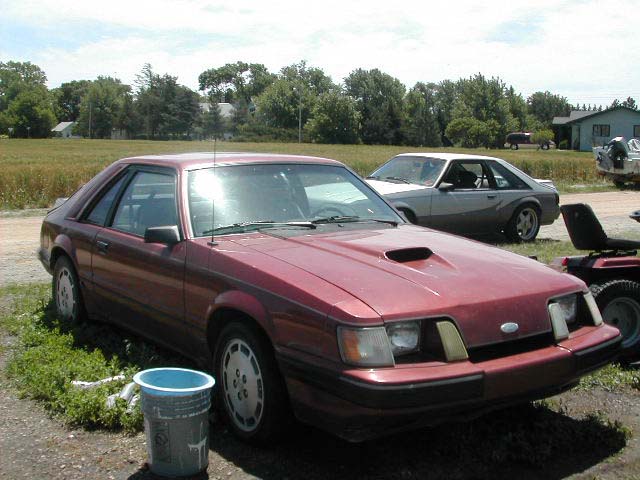 Just a few pics of my highway beautification project...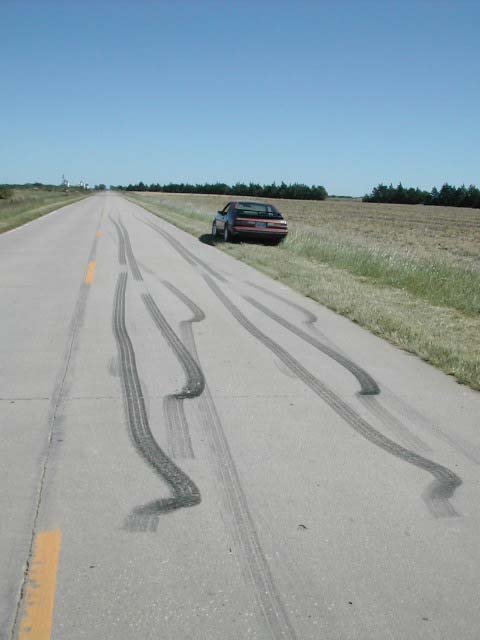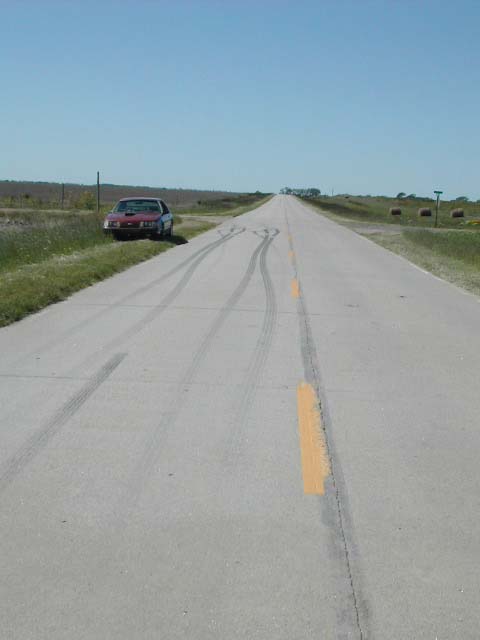 © Stinger Performance Engineering 2016