UnderPressure 86 SVO
I picked this car up on a whim. I really didn't have a plan or need for it. Matter of fact, the only reason I bought it is because of all the aftermarket parts it came with. The value of the parts far exceeded the asking price for the car. I looked at it as a deal I could pass up so July 3rd, 2005 I drove 18 hours round trip to pick it up...after a thorough lookover, the UnderPressure Project was born...Why did I call it "UnderPressure"? Well, two reasons really: 1) I put myself under pressure financially when I purchased it and 2) The engine will of course be under pressure...in excess of 25psi to be exact.


Stats Stock /Modified or Planned
Engine: 2.3 Liter Turbocharged & Intercooled
Induction: Garrett/AiResearch T3 Turbo @ 14psi / Holset HY35 @ 25psi
Power: 205hp, 240 lb-ft Torque / Alot More
Exhaust: 2.5" Crush Bent Pipe, Cat-Converter, Lo-Flow Muffler / Stinger Header/Full 3" Stinger Performance Single Exhaust w/Magnaflow Muffler

Transmission: Hurst Modified Borg-Warner T5 5-Speed / UPR Shifted Borg-Warner T5 5-Speed
Rear End: 7.5" w/3.73:1 gears / 8.8" w/3.73:1 gears and 31 Spline Moser Axles.
Brakes f/r: 11" Rotors with 73mm Calipers/11.25" Disc / 13" Cobra Rotors w/4 Piston Calipers/13" Cobra

Suspension: Macpherson Strut, Coil Springs, Anti-Sway Bar/Solid, Coil Springs, Anti-Sway Bar / Coilovers

Struts/Shocks f/r: Adjustable Koni Reds/Adjustable Koni Reds / Adjustable Koni Yellows

Curb Weight: 2992 lbs

Weight Distribution f/r %: 55/45
Paint: Jalapeno Red Paint Code 2R / Two-Tone Red/Black
Performance New /Modified
0-60: 7.7 seconds / 5.5 seconds

0-100: 21.0 seconds / 13.5 seconds

Quarter Mile: 15.2 at 90.0 mph / High 12's @ 105+ mph
Top Speed: 128 mph / 160 mph (theoretical)

Lateral G's: 0.85 / .95

Drag Coefficient: 0.39
Kill List
none yet


Modifications
Engine--too early for this...
Drivetrain--some sort...
Suspension/Tires--it has this too...

Waiting For Installation--tons of goodies...
Here is a few pics of it the day I pulled it off the trailer. There is no engine or trans so it's high in the front...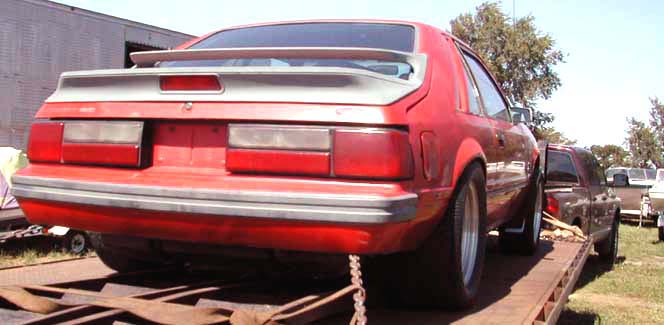 Not in too bad of shape from this angle...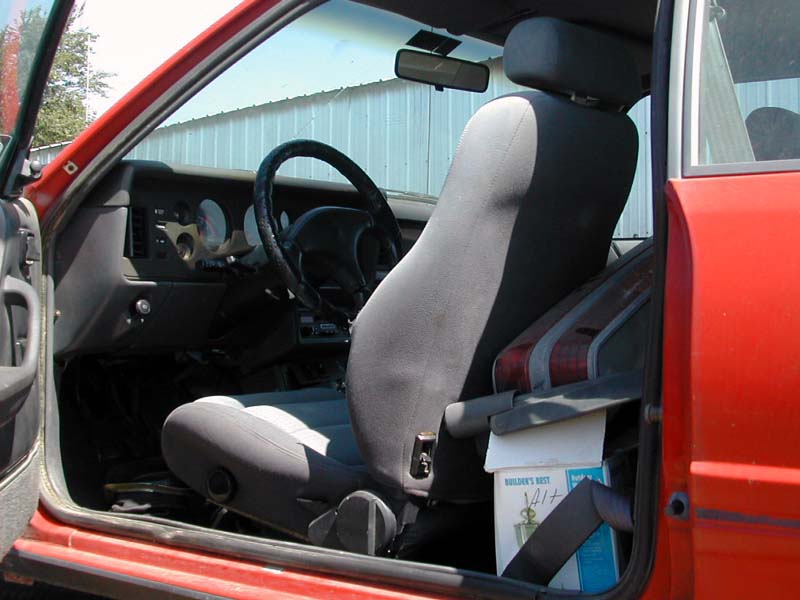 I got a few of these with the car...someday I'll actually install one in the SVO...

© Stinger Performance Engineering 2016