Stinger-Performance.com
Performance Parts Page

^Feel Free To Use This Banner^

About Me & My Cars
Project Cars, Videos, Links, etc.
Stinger Performance was featured in the May 2006 "Turbo Revolution" issue of MM&FF Magazine.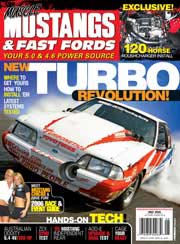 Stinger Performance was also featured in the Sept. 2007 issue of MM&FF Magazine.


Check Out the May 2006 & September 2007
issues of Muscle Mustangs & Fast Fords.


Project Bolt-On
Featuring Many of the "Bolt On" Parts available from
Stinger Performance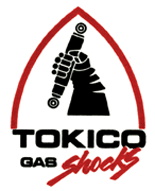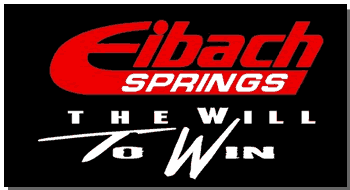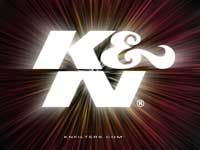 Tubular Header Parts & Accessories:
2.3 Turbo Stainless Steel Tubular Race Header Version 1.5 (Header No Longer Available)
High flow stainless steel center mount header featuring equal length 1 5/8" primaries and 1/2" machined flanges. New header orientation allows for removal of the turbo in less than 15 minutes. Will accept all turbos with a T3 style 4 hole rectangular flange. This is not a direct stock replacement. No provision for EGR. Accessories are available below. (Must use a braided flex section in external wastegate dump tube that routes wastegate back into downpipe).

Header no longer available, we're done trying to compete with all of the Chinese copies flooding the market. You can find Chinese copycats of our header on eBay that will work with our header accessories below.

Specs:
-One Piece Equal Length 1.625" Primaries
-0.065" Wall Thickness
-0.50" Flange Thickness
-High Flow Merge Collector
-T3 Style Turbo Flange
-35-38mm External Wastegate Flange (~3.45x1.75" w/1.30" center hole)
Dimensions:
-Total Width (Exc. WG Flange): 8.0"
-Total Width (Inc. WG Flange): 9.75"
-Total Height: 8.0"
Includes:
-Flange Gasket
-Turbo Gasket
-Wastegate Gasket
-Turbo Studs/Nuts, Wastegate Bolts/Nuts
-Additional Bracing on Wastegate Flange and Heavy Duty Welds on All Braces.
Header Accessory Package Deal w/External Wastegate, Braided Oil Feed & Return Line, & Return Flange (Header NOT Included) with or without Header Downpipe:
Price: $275 - $465 Shipped ($290 -$490 Value)

Front Mount Intercooler Kit for Fox Body Vehicles Running Center Mount Header
(Mustang, SVO, Mustang GT, Thunderbird Turbo Coupe, etc.)
Are you looking for an easy way to add a front mount intercooler to your 2.3 Turbo powered Mustang, SVO, or Thunderbird Turbo Coupe? There is nothing easier than purchasing this complete, bolt on, all inclusive Front Mount Intercooler Kit. These are Absolutely the Lowest Priced FMIC Kits available for 2.3 Turbo Powered Fords. These Intercooler Kits will allow you to run an extra 4-10psi over the stock configuration. That additional 4-10psi can produce an extra 30hp-90hp depending on engine mods. This kit uses the Custom Stinger Front Mount Intercooler shown below.
This FMIC kit allows the stock radiator to be used. The a/c condenser can be used if it is moved closer to the stock radiator by ~1". Kit requires no modification to Mustang sheetmetal. Movement or removal of the carbon canister is required. Trimming of the inner fender plastic may also be required depending on vehicle. Part#:S25IC

Designed To Fit:
-84-86 SVO's
-79-93 Mustangs
-83-88 Turbo Coupes
When equipped with Center Mount Header. Will fit other applications with minor modification.
Kit Includes:
Everything needed to install:
-Intercooler
-Tubing
-Silicone Couplers (Black, Blue or Red)
-T-Bolt Clamps
Details:
-Tubing: 2.5" Aluminized Steel
-Intercooler: Rated for up to 700hp.
-Reduces air temp by 150-200ºF depending on Ambient temperature.
Front Mount Intercooler Kit
For center mount header style turbo placement. For cars running our center mount header or any header that locates the turbo in the same general location as our header.
Standard Blow Off/Bypass Valve Tube is for Forge, Bailey, or Bosch Style Valve. This is a 1" OD Clamp-on Hose Connection, Silicone Hose below and on Universal Parts page). If you are running a valve that requires a custom flange, you'll need to supply the flange and we will weld it on if you select the custom option below. Rotated intake manifold is not included with rotated tubing kits. See below for ported and/or rotated intakes. Only fits Stinger Performance Center Mount Header equipped cars.
Price: $550 Shipped
83-86 Thunderbird/SVO/Mustang Tubing: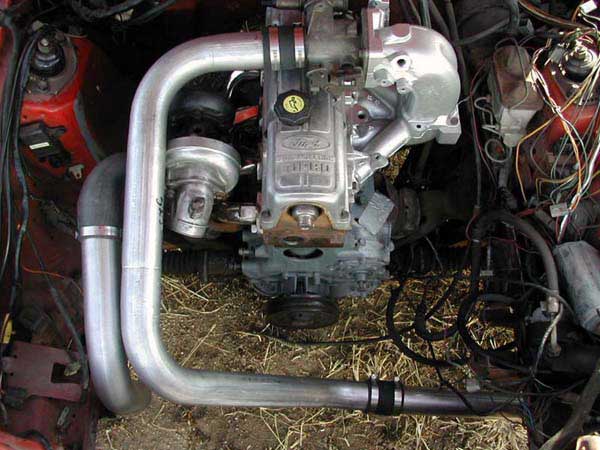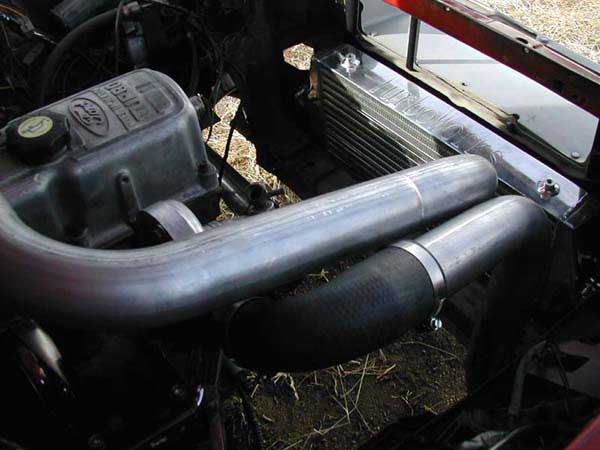 87-88 Thunderbird Tubing (Header not shown):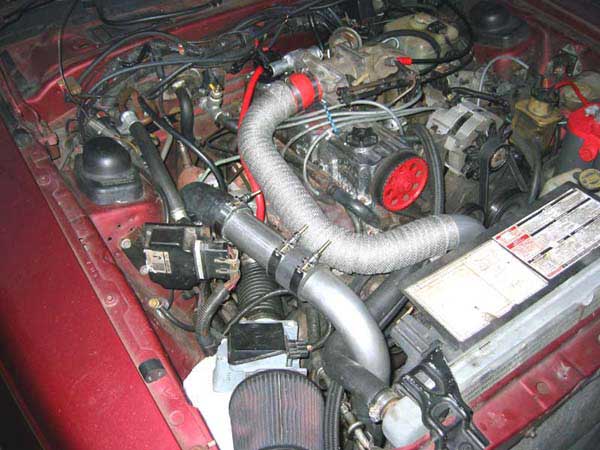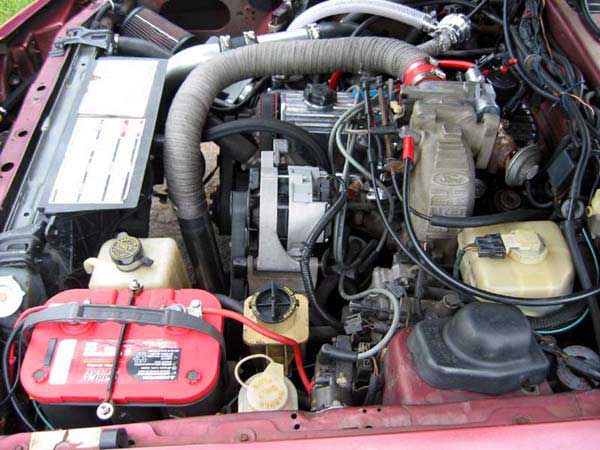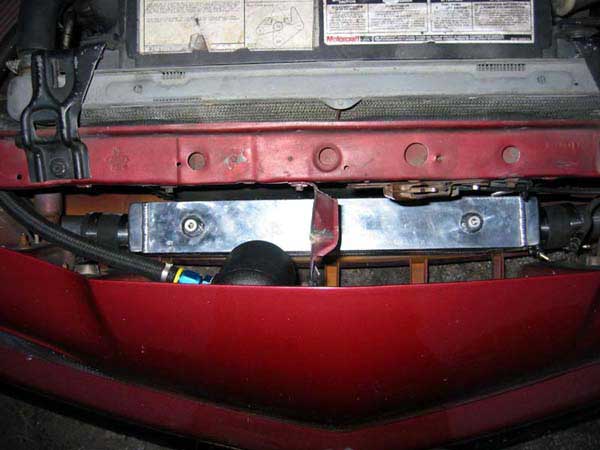 90 Degree Rotated Upper Intake Tubing (Header not shown):



120 Degree Rotated Upper Intake Tubing (Header not shown):

Custom Stinger Intercooler Included: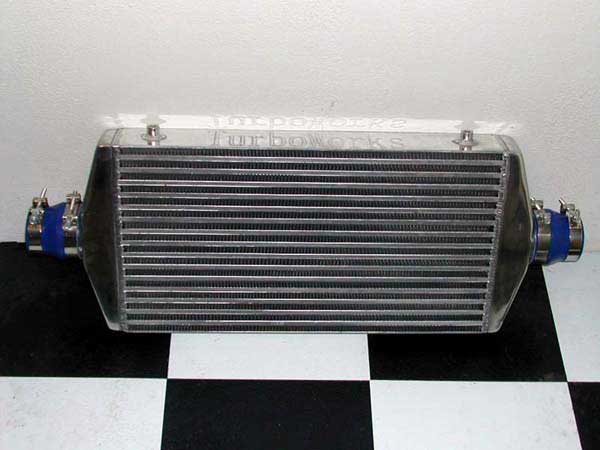 Ported/Gutted/Rotated Upper & Lower Intake Manifolds (PART 1)
High flow ported and gutted factory 85.5-89 2.3 Turbo intake manifolds. Lower intakes are ported and knife edged or rounded (depending on your preference) for increased flow. Uppers are gutted and smoothed for increased flow. All intakes are bead blasted and flanges are surfaced free of charge. Many options are available to suit your needs.

Be sure to select 1.) Options, add that item to the cart, then select additional Upgrades from drop down menu 2.) and 3.) and then if necessary, fill in text box 4.) then include your email address in box 5.) and then add those upgrades to the cart as well.

Core Charge Terms: If you're unable to ship your core until after we send the new intakes, or want the new intakes to ship while your core is still in transit, you'll need to pay the core charge during checkout. Then when we receive your core, we'll refund the core charge back to you. A core charge is required if you don't have useable cores to send in exchange for the ported versions. We can also port your intakes when necessary (if they are painted, powder coated, etc.). The returned core must be the same style intake as we ship. You can't ship an inline style 1983-84 intake, or a dual plug 1991+ intake in exchange for the 4 square 1985-1990 style intake pictured below.

Core Shipping: If you're shipping a core to us, we will contact you via the contact email you supply in Part 2 below with the shipping address and instructions. Do not ship the core before you get this information. You can email us and ask for this information after completing your order if you'd prefer.
Price: $135.00-330.00 Shipped
Intake Manifold Upgrades (Part 2)
(DO NOT add this to cart until AFTER selecting Intake Manifold PART 1 above):
Part 1 and Part 2 Required to Complete your Intake Order.
Additional Upgrades and Order Details for your ported and gutted intake manifold. Note that the 90 degree rotation requires relocation of the alternator since the throttle body will occupy the same spot as the stock alternator. The 120 degree rotation option goes around the stock alternator but looks less "clean" since it's not a straight shot.
If you want more than one option in drop down menu 2 below, you'll need to add each one to the Cart separately. Blasting and Surfacing is included with all intakes and options below free of charge.
Price: $0.00-170.00 Shipped
120 Degree Rotation Upper w/EGR Delete & Ported Lower (Left & Middle), Gutted Upper (Right):


Ported Lower:

2.3 High Flow Fuel Rail with Factory Style Pressure Regulator Adapter Block Option
High flow billet aluminum fuel rail for Ford 2.3 engines with a square intake manifold (as shown in ported intake pictures above). Has -8 AN threaded ports on both ends for fuel inlet/outlet, as well a 1/4-18 auxiliary port between the injectors that can be used if there is minimal clearance at one end. Also included is am 1/8-27 NPT threaded port for a schrader valve or fuel pressure gauge. You'll need to purchase the appropriate fittings to adapt this rail to the factory lines, or aftermarket lines.
This fuel rail is available with or without the adapter block that allows you to run your factory style (86-93 V8 or 83-86 2.3) stock or aftermarket fuel pressure regulator. If you don't use the adapter block, you'll need to purchase an inline fuel pressure regulator that you can mount in the fuel return line.
Fuel Pressure Regulator Adapter Block also available separately from drop down menu below.
Rail Specs Here FPR Adapter Specs Here
Price: $65.00-$180.00

2.3 Turbo Aluminized 3" Header Downpipe (External Wastegate)
High flow Mandrel bent 3" aluminized mild steel downpipe for the Stinger center mount header features a CNC machined T3 flange with a high flow turn down elbow/o2 housing. Oxygen Sensor bung is included. Must be used with External Wastegate. Extends to transmission crossmember. Will fit Mustangs, Turbo Coupes, and Merkurs. Only fits Stinger Performance Center Mount Header equipped cars. Stainless Steel Version Available by Special Order for Additional Fee. Part#:S3HDP
-Stainless version is special order (not stocked) and therefore may take 1-2 weeks before it is ready to ship.
Header Downpipe With 5 Bolt Turbo Flange & o2 Sensor Bung
Price: $135.00-200.00 Shipped

Header Downpipe Without 5 Bolt Turbo Flange (Perfect For Holset Users)


-Stainless version is special order (not stocked) and therefore may take 1-2 weeks before it is ready to ship.
Price: $115.00-180.00 Shipped

2.3 Turbo Aluminized 3" Header Downpipe (Internal Wastegate)


High flow Mandrel bent 3" aluminized mild steel downpipe for the Stinger center mount header utilizing the stock Ford internal wastegate T3 flange. Oxygen Sensor bung is included. Must be used with Internal Wastegate. Extends to transmission crossmember. Will fit Mustangs, Turbo Coupes, and Merkurs. Only fits Stinger Performance Center Mount Header equipped cars. Part#:S3HDPI
-Stainless version is special order (not stocked) and therefore may take 1-2 weeks before it is ready to ship.
~REQUIRES USEABLE STOCK T3 OUTLET ELBOW IN EXCHANGE AS A CORE. CORE CHARGE IS ADDED IF YOU DO NOT SUPPLY US WITH STOCK ELBOW.~
Price: $155.00-270.00 Shipped
Core Charge: $50 (or Stock T3 down elbow)

3" Externally Wastegated Header Down Elbow


High flow Mandrel bent 3" aluminized mild steel down elbow features a CNC machined T3 flange. Oxygen Sensor bung is included. Must be used with External Wastegate. Intended to allow you to build your own downpipe, this elbow gets you started. Will fit Mustangs, Turbo Coupes, and Merkurs. Only fits Stinger Performance Center Mount Header equipped cars. Stainless Steel Version Available by Special Order for Additional Fee. ~Special Order Item~
Price: $90 Shipped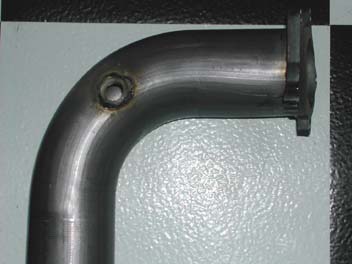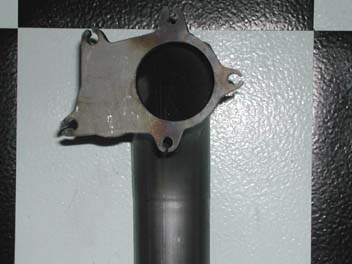 3" Internally Wastegated Header Down Elbow (T3/T4, T3, or IHI Turbo)


High flow Mandrel bent 3" aluminized mild steel down elbow utilizing the stock internal wastegate T3 or IHI flange. Oxygen Sensor bung is included. Intended to allow you to build your own downpipe, this elbow gets you started. Will fit Mustangs, Turbo Coupes, and Merkurs. Only fits Stinger Performance Center Mount Header equipped cars. ~Special Order Item~
REQUIRES USEABLE STOCK T3 (83-86 TC, SVO, XR4Ti) or IHI (87-88 TC) OUTLET ELBOW IN EXCHANGE AS A CORE. CORE CHARGE IS ADDED IF YOU DO NOT SUPPLY US WITH STOCK ELBOW. Stainless Steel Version Available by Special Order for Additional Fee.
Price: $100 Shipped
Core Charge: $50

38mm External Wastegate


These external wastegates are built to Stinger Performance specs to perform better than the lower cost alternatives that leak through the valve stem, greatly hampering performance. These wastegates incorporate a valve seal just like a cylinder head which seals the valve stem to prevent leakage. Polished Stainless Steel and Polished Aluminum construction. They come with a 12psi and 18psi internal spring. This means 12psi is the minimum amount of boost you can run. You can still raise boost up to 35psi with an adjustable boost valve or by changing wastegate spring. 2 Stainless Flanges, 2 Gaskets, 2 Banjo Bolt/Nipple Assemblies, 1 Valve Seat, and Stainless Hardware are included.
Price: $ 170.00 Shipped

Isuzu NPR/Volvo Intercooler Tubing for Center Mount Header


2.5" Mandrel bent tubing for the Isuzu NPR and Volvo intercoolers mounted in the nose of SVO's, Turbo Coupes, and Mustangs that are running the Center Mount Header. Both the large and small NPR intercoolers will work. Turbo hoses, elbows, and clamps are included.
Standard Blow Off/Bypass Valve Tube is for Forge, Bailey, or Bosch Style Valve. This is a 1" OD Clamp-on Hose Connection, Silicone Hose below and on Universal Parts page). If you are running a valve that requires a custom flange, you'll need to supply the flange and we will weld it on if you select the custom option below. Only fits Stinger Performance Center Mount Header equipped cars. Stainless Steel Version Available by Special Order for Additional Fee.
NPR/Volvo FMIC Tubing/Couplers/Clamps:
Price: $200.00-$220.00 Shipped Part#:S25NPR

NPR/Volvo FMIC Tubing ONLY:
Price: $130.00-$150.00 Shipped

90 Degree Rotation Plenum intake shown, also works with 90 Degree and 120 Degree Square intake:

Turbo Oil Return Line (Center Mount Header or Bob Log)


Braided stainless steel covered teflon lined oil return line with all the necessary fittings installed and ready for installation. You will need to purchase the Turbo Oil Return/Drain Flange below to attach this line to your turbo. Does not fit stock location exhaust manifold equipped cars.
Install Guide: Click Here
Price: $ 55.00-$60.00 Shipped

Turbo Oil Feed Line


Braided stainless steel teflon lined oil feed line with all the necessary fittings installed and ready for installation. Dropdown menu options dictate length and turbo inlet fitting type.
Install Guide: Click Here
Price: $ 45.00-$60.00 Shipped

Turbo Oil Return/Drain Flange


Billet aluminum turbo return/drain flange for all turbos with a 2" (50.8mm) return flange bolt spacing. Will fit T3, T3/T4 Hybrid, T4, T04E, T04B, Holset HX, and HY Series. Can be modified to work with IHI turbos on 87-88 Turbo Coupes, please notify me if you need this done. This flange is designed to go with the braided return line above.
Price: $ 18.50 Shipped

COMPLETE SYSTEM (Aluminized or SS): Mustang or Turbo Coupe 2.3 Turbo 3" Single Exhaust


This is a Complete Mandrel bent aluminized steel or stainless steel exhaust system for Turbo Coupes and Mustang Fox Body turbo cars using Stinger center mount header. This goes from the turbo outlet to the rear bumper, with or without clamps. Muffler will be mounted on the driver's side. If you don't want to run a muffler at all, we have muffler delete pipes available in the "Universal Parts" section of our site. All of these parts are also available separately below for those who want to purchase a little at a time, or want options not available in this list (converter or muffler delete pipe). Dynomax is a straight through design. Dynomax & Flowmaster mufflers fit best when using a tailpipe so Magnaflow is not offered in this kit.
-Off-road Use Only (no catalytic converter)
-Hi-Flow 3" Magnaflow Catalytic Converter available for purchase separately
-Stainless Exhaust is special order (not stocked) and therefore may take 1-2 weeks before it is ready to ship.
Single Exhaust for Center Mount Header
Price: $ 355.00-845.00 Shipped

Mustang or Turbo Coupe 2.3 Turbo 3" Single Exhaust


Mandrel bent aluminized steel exhaust system for Turbo Coupes and Mustang Fox Body turbo cars using Stinger center mount header. This goes from the turbo outlet to the muffler. Muffler will be mounted on the driver's or passenger side depending on your selection below. ~Off-road Use Only (no catalytic converter)~ Only fits Stinger Performance Center Mount Header equipped cars. Stainless Steel Version Available by Special Order for Additional Fee.
Hi-Flow 3" Magnaflow Catalytic Converter available for purchase separately.
Single Exhaust with 3" Header Downpipe
Price: $ 285.00 Shipped

Muffler for use with 3" Tailpipe or Turndown (3" in/out). Dynomax & Magnaflow are straight through designs. Dynomax & Flowmaster fit best with the 3" tailpipe.
Price: $ 100.00 - $115.00 Shipped

Passenger Side: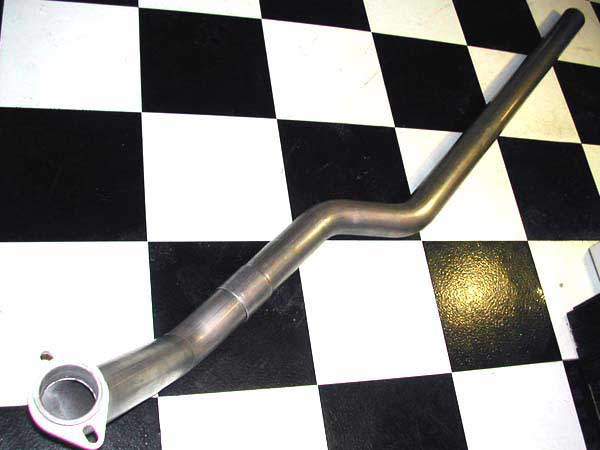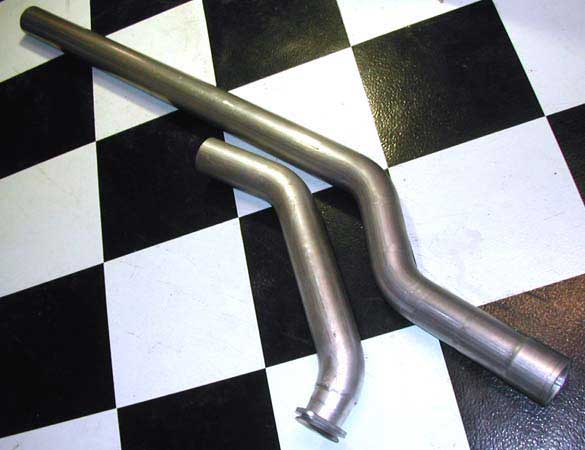 Driver Side: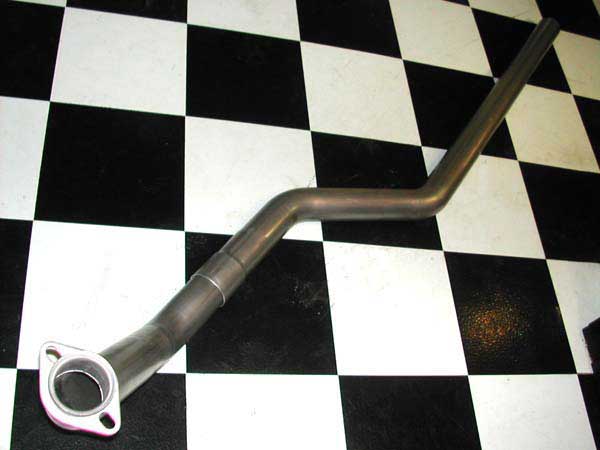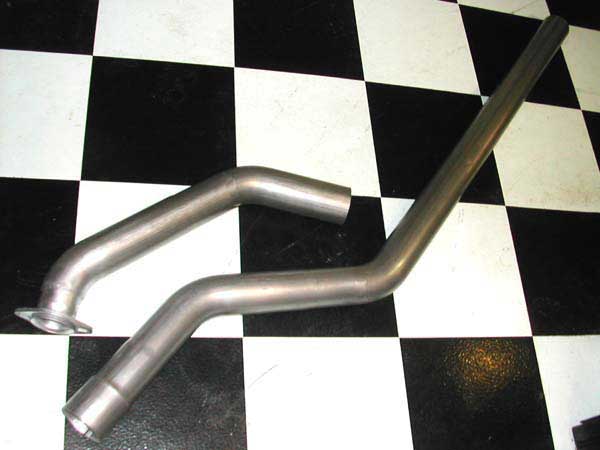 Installed Installed (click to enlarge):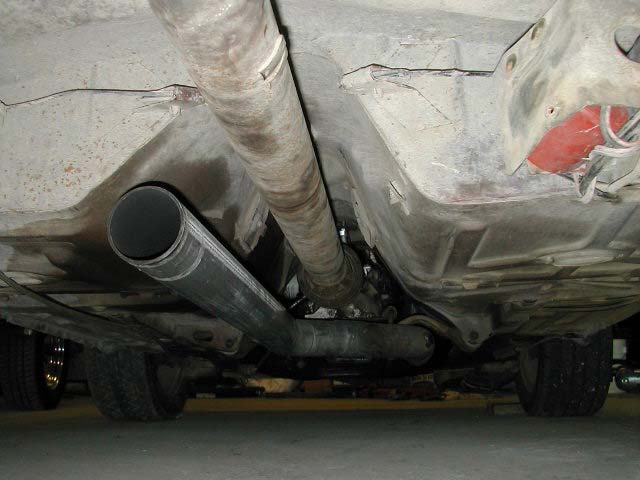 COMPLETE SYSTEM (Aluminized or SS): Mustang or Turbo Coupe 2.3 Turbo 3" Dual Exhaust


This is a complete Mandrel bent aluminized steel or stainless steel exhaust system from the turbo outlet to the rear bumper for Turbo Coupes and Mustang Fox Body turbo cars. Features 3" header downpipe and intermediate pipe that splits into dual 2.5" tubing for dual mufflers and dual tailpipes. If you don't want to run a muffler at all, we have muffler delete pipes available in the "Universal Parts" section of our site. The "no downpipe" option below goes along with the complete header kit above that includes the downpipe. All kits include (2) 3" and (6) 2.5" Stainless Steel Torctite Clamps.
-Off-road Use Only (no catalytic converter)
-Hi-Flow 3" Magnaflow Catalytic Converter available for purchase separately.
-Stainless Exhaust is special order (not stocked) and therefore may take 1-2 weeks before it is ready to ship.
Complete Dual Exhaust for Center Mount Header
Price: $ 670.00-$1050.00 Shipped

Mustang or Turbo Coupe 2.3 Turbo 3" Dual Exhaust


Mandrel bent aluminized steel exhaust system for Turbo Coupes and Mustang Fox Body turbo cars. Features 3" header downpipe and intermediate pipe that splits into dual 2.5" tubing for dual mufflers. This goes from the turbo outlet to the mufflers. If you don't want to run a muffler at all, we have muffler delete pipes available in the "Universal Parts" section of our site.
-Off-road Use Only (no catalytic converter)
-Stainless Steel Version Available by Special Order for Additional Fee
-Hi-Flow 3" Magnaflow Catalytic Converter available for purchase separately
Dual Exhaust with 3" Header Downpipe
Price: $ 335.00 Shipped Muffler for use with Dual 2.5" Tailpipes or Turndowns (2.5" in/out)
Price: $ 90.00 Shipped (Two Required) Stock downpipe shown but header downpipe is included instead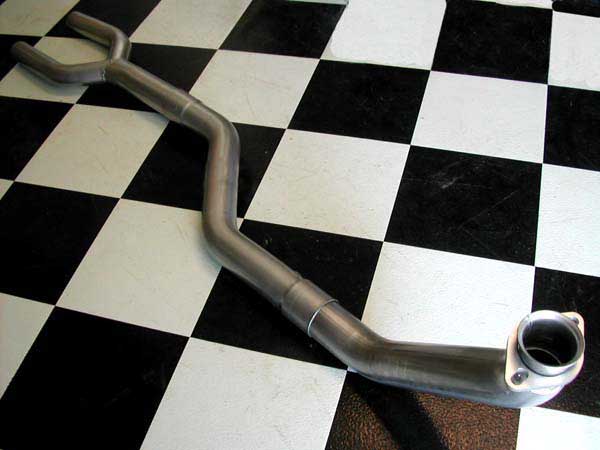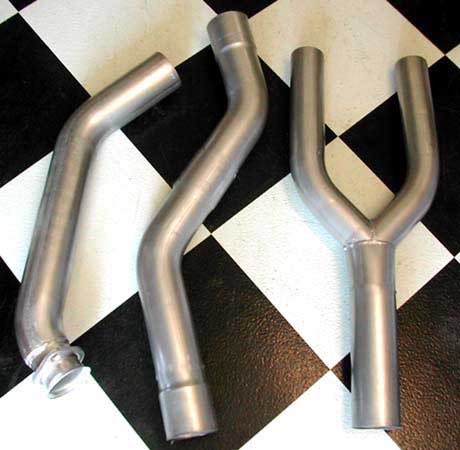 Installed, Cat Converter Available at Bottom of Page (click to enlarge):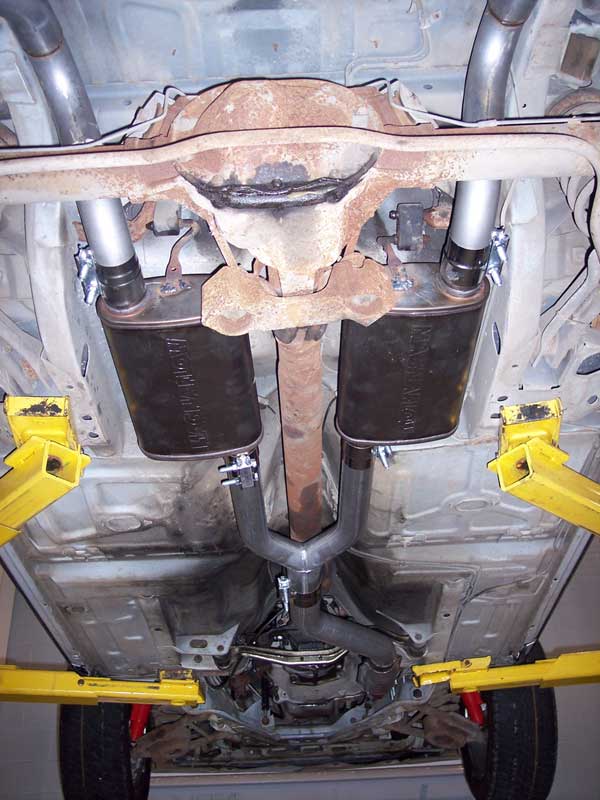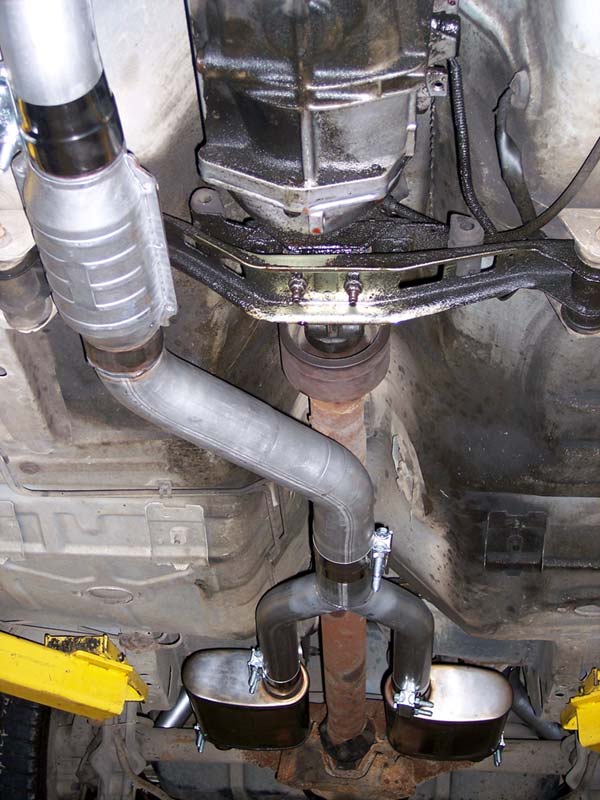 Mustang or Thunderbird 3" Tailpipes


Mandrel bent aluminized steel 3" Tailpipe for 79-93 Mustangs or 83-88 Thunderbirds. This goes from the mufflers to the rear bumper. Two piece design for easier installation and to allow installer to adjust pipe for perfect fit. Designed to go with the single exhaust systems listed above. Driver's side installation only. Price is per tailpipe. Stainless Steel Version Available by Special Order for Additional Fee.
Price: $100-$120 Shipped Installed and SS 3" Angle Cut Tip Added By Customer: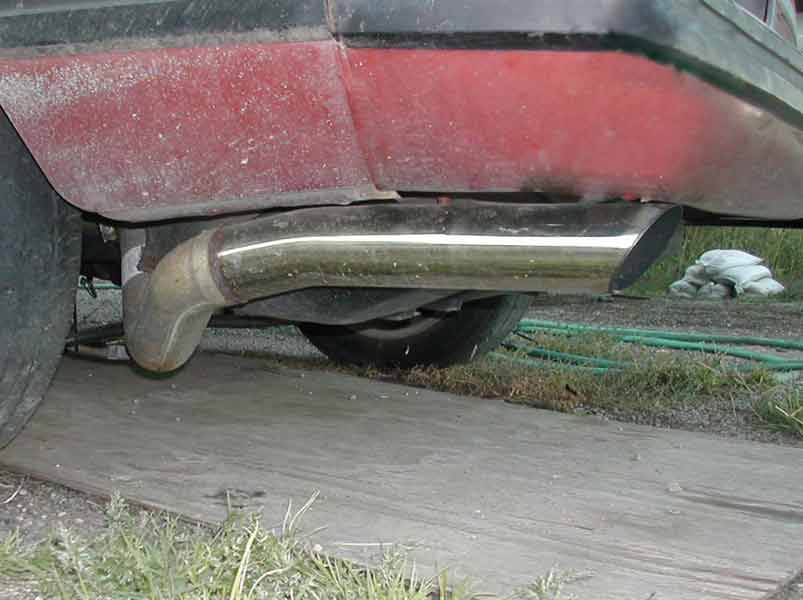 Mustang or Thunderbird 2.5" Tailpipes


Mandrel bent aluminized steel or stainless steel 2.5" Tailpipes for Mustang and Thunderbird Fox Body cars. This goes from the mufflers to the rear bumper. Designed to go with the dual exhaust system listed above.
Thunderbird tails have been redesigned for improved fit and easier installation. New Thunderbird design requires an AccuSeal clamp (available at the bottom of this page) for the over the axle connection unless you'll be welding it.
2.5" Tailpipes Aluminized or Stainless Steel (Pair):
Price: $ 185.00-$255.00 Shipped Mustang Angle Cut SS Tip: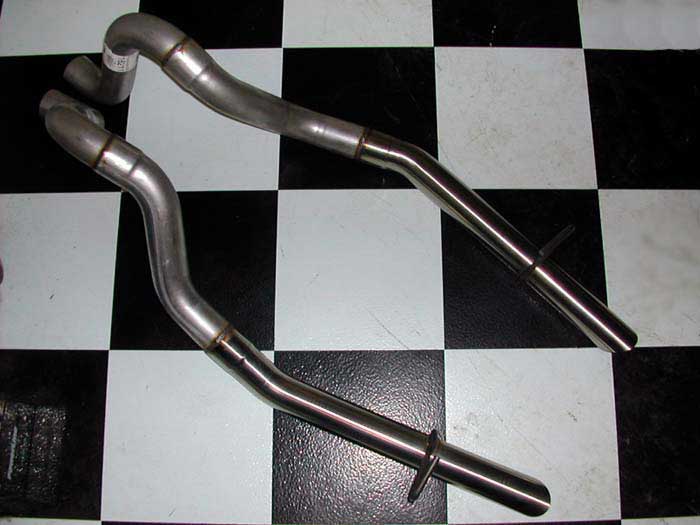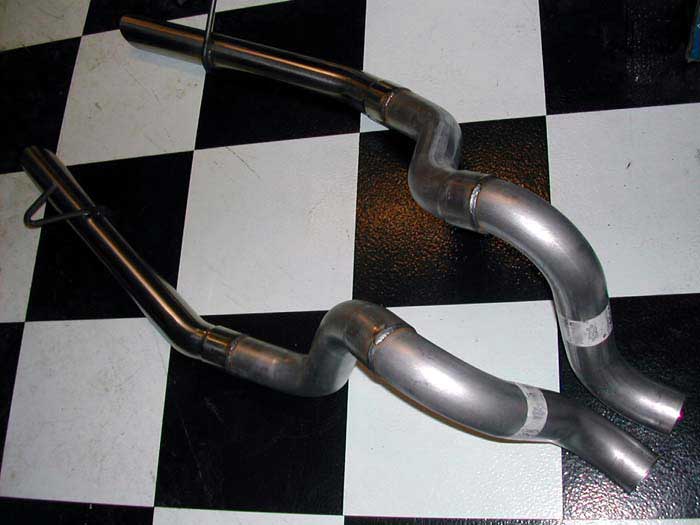 Thunderbird Stainless Steel on top, Aluminized on bottom:
COMPLETE SYSTEM (Aluminized or SS): Merkur XR4Ti 2.3 Turbo 3" Single or Dual Exhaust


Mandrel bent aluminized steel or stainless steel exhaust system for 85-89 Merkur XR4Ti's using Stinger center mount header. 3" Tailpipe on the driver's side does require slight trimming of the gas tank plastic shroud (not the tank itself), can be used on passenger side as well. Single kits ordered with clamps include (3) 3" Torctite Stainless Steel Clamps. Dual kits ordered with clamps include (2) 3" and (2) 2.5" Torctite Clamps.
-Off-road Use Only (no catalytic converter)
-Hi-Flow 3" Magnaflow Catalytic Converter available for purchase separately.
-Only fits Stinger Performance Center Mount Header equipped cars.
-Stainless Exhaust is special order (not stocked) and therefore may take 1-2 weeks before it is ready to ship.
3" from Turbo to Muffler with Header Downpipe:
Price: $ 430.00-$800.00 Shipped Part#:S3MK

Merkur XR4Ti 2.3 Turbo 3" Single or Dual Exhaust


Mandrel bent aluminized steel exhaust system for 85-89 Merkur XR4Ti's using Stinger center mount header. Only Buy the downpipe and midpipe and you will have 3" exhaust to the muffler. You can then choose to add a single 2.5" tailpipe (either side) for a single exhaust exit or upgrade to both 2.5" tailpipes for a dual exhaust setup. 3" Tailpipe on the driver's side does require slight trimming of the gas tank plastic shroud (not the tank itself), can be used on passenger side as well. ~Off-road Use Only (no catalytic converter)~
Hi-Flow 3" Magnaflow Catalytic Converter available for purchase separately. Only fits Stinger Performance Center Mount Header equipped cars. Stainless Steel Version Available by Special Order for Additional Fee.
3" from Turbo to Muffler with Header Downpipe:
Price: $ 245.00 Shipped Part#:S3MK
Muffler for use with Single 3" Tailpipe (3" in/out) or Dual 2.5" Tailpipes (3" in/Dual 2.5" out):
Price: $ 95.00 Shipped
Single 3" or Dual 2.5" Tailpipe:
Price: $ 90.00-$150 Shipped Part#:SMKT Merkur 3" from Turbo to Muffler: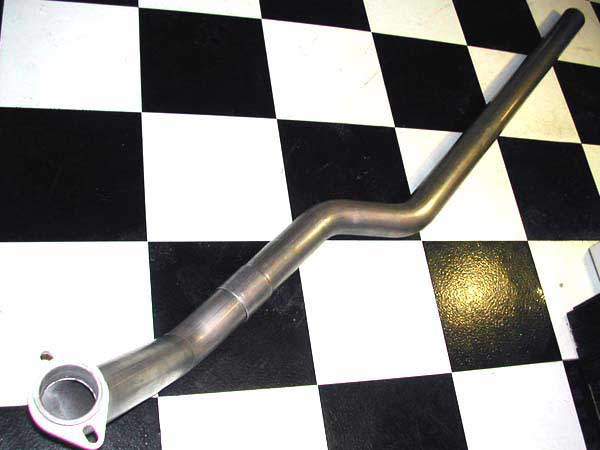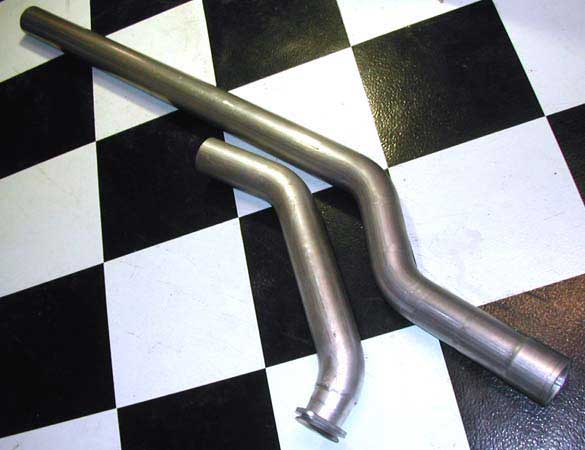 Merkur Tailpipes (3" and 2.5"):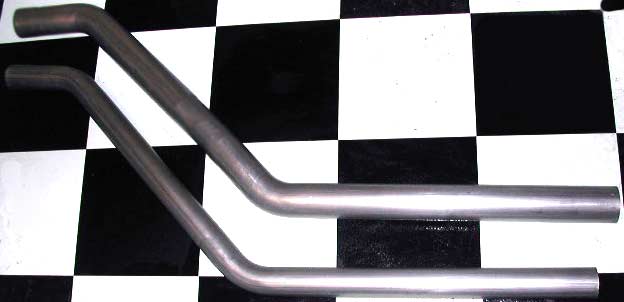 Magnaflow Universal Catalytic Converters


MagnaFlow Universal Catalytic Converters form the basic building blocks for a comprehensive line of direct-fit applications. The main benefit of the universal catalytic converter is that one unit may cover a wide variety of vehicle makes and models. Installing universal converters often requires the use of welding, cutting and tube bending equipment that is readily available to most professional installers.
Optional Compact Magnaflow SPUN-CAT Upgrade
A revolutionary new compact catalytic converter design for use in tight places. Utilizing new manufacturing techniques, each converter body is a single CNC-formed and laser-welded tubular section, which is then spun into a 4" round converter body shape. Spun-Cat available in round shape only.
Universal Fit Price: $ 80.00 Shipped
Spun-Cat Price: $ 105.00 Shipped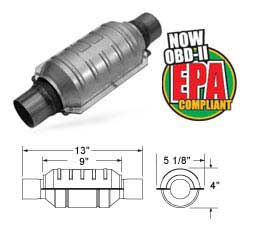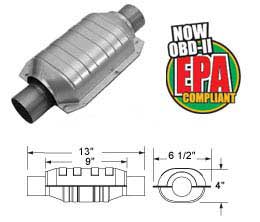 Torctite Polished Stainless Steel Exhaust Clamps
The simple, effective way to connect exhaust system components. Replaces U-bolts and clamps. Patented design makes for fast, easy and accurate installation - there's no need to separate pipes or exhaust members before clamping. Causes no damaging distortion to pipe so system can easily be removed in the future without cutting. Band is designed for maximum stretch providing tight seal on lap joint/slip joint applications. Polished stainless steel construction to prevent rust or corrosion.
Quantity Needed:
--Dual exhaust kits use (2) 3" and (2) 2.5" Clamps. If using tailpipes, add (2) additional 2.5" clamps for Mustangs and Thunderbirds and (2) additional 2.5" AccuSeal clamps for Thunderbirds (available at the bottom of this page).
--Single exhaust kits use (2) 3" clamps. If using our tailpipe, add (2) additional 3" clamps.
--3" Tailpipes require (2) 3" clamps per tailpipe.
Price: $ 13.50 each with exhaust system
Price: $ 18.00 each when ordered without exhaust system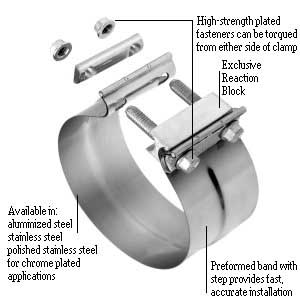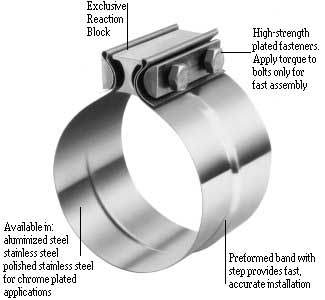 If you have any questions about any of these parts feel free to contact us HERE
© Stinger Performance Engineering 2018